Dave and Karla Visit the White House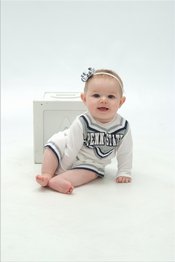 I know how to pick a winner!
Additional Pages:
Experience
The Greatest Show in College Football
See why they call it Happy Valley!
We went to see Penn State play Michigan State on November 22, 2008 for the Governor's Land Grant Trophy and the Big Ten Championship. This was not only Karla's first trip to Happy Valley, it was also the first time she had ever been snowed on. Despite the frozen conditions, she stuck it out until the end of the game. Just take a look at those great 50 yard line seats in the alumni section. Happy Birthday Dave!
We spent the days prior to gameday touring the Hershey Chocolate Factory and the Yuengling Brewery. We had a pretty rough ride back from Pottsville as we got about 6 inches of snow during the 3 hour trip. Enjoy the pics!